Sapney was born with a few young friends coming together to for the purpose of making dreams come true for little ones. Little did they knew this journey started with a small step will lead to a destination where dreams of little ones resides 🙂
The first meeting was held in December 2004 at Japanese Park in Rohini, New Delhi and was attended by 12 people.
With dreams in our eyes and enthusiasm to attain a noble good, we gave our preliminary interest, a concrete shape.
We organised SAPNEY'S first event at Missionery of Charity, an orphanage in Ghaziabad, Uttar Pradesh. The event saw more than 50 SAPNEY members coming together for the very first time.
In the event, we distributed books, copies, school bags and other stationery products to the needy children.
The event did a dual benefit at an emotional level, apart from the evident social ones.
Children were overjoyed not only with their gifts but also because of the care, love and attention, they received by the SAPNEY members.
And, on the other hand, the heavenly feeling of spreading cheer amongst such neglected children, overwhelmed our members too.
The event got attention of the news media as well.
Amongst all the members, Raman, Ashok, Chander Mohan made commendable efforts.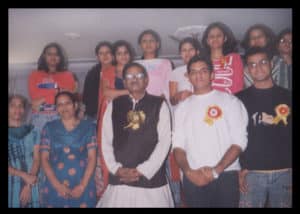 SAPNEY grew and the number of its member too. They were now   80. So, with subseqquent increase in funds a bigger (second) event was planned.
The second event of SAPNEY was held at  Chander Nagar, Delhi   with much fun and frolic.
For the first time, a song, exclusively dedicated to SAPNEY was sung live. And, the former mayor of Delhi, Mr Mahesh Chandra Sharma, gaced the occasion with his benign presence.
Major contributions – Geetanjali Atri, Mohit sapra, Kamal Saikia, Raman and Nisheeth.
Year 2007 marked the hottest summer of the decade. Both humans and animals fell prey to scorching heat. SAPNEY, being sensitive about the tenderness of children, decided to do something which could bring relief to them from the merciless season. SAPNEY's third event was a ccomprehensive output of the thought.
This time the venue was ASHA KIRAN, Rohini, an organisation for Special children.
With the permisssion of its management committee, the members of SAPNEY distributed cotton clothes, prickly heat powder, and toys amongst its beneficiaries.
The event also made the members realize a totally different, but unfortunately a far too hard way of life. As a result, many eyes got wet, several hearts melted but each one of them thanked the gracious God.
Special Contributions: Rajan Gaur (Sunny). It would have been impossible without him.
2007 Event 2
SAPNEY then organised an event at AICB Capt Chandan Lal, school for blind in Bahrangpur village, Haryana. The school is a part of a bigger association, All India Confederation for blind, Delhi. We planned the event with the solicit contribution of Mr J L Kaul, Chairman of AICB.
Braille books were purchased from biggest Braille press of Asia. Academics, comics, general knowledge, fiction, series of Harry Potter…et al were some of them.
The members were received a warm welcome from the management. Children remained a little shy initially, but rounds of introduction excited them. With this their whiffed off their timidity and they embraced their SAPNEY friends. Songs, Dance, games…. followed like a miracle.
The event was another eye opener for all the members toward the harsh realities of life.
Special contributions: Aadhar Girotra, Sahil Arora, Ruchira sehgal and all the other members…
Yet another incredible year for SAPNEY. This was the year when most of us were taking a move ahead in life. We were graduates by now and moved to either a higher-level college or a new job.
Way back in the year 2005, when we laid the foundation of SAPNEY, we thought it to go with college and probably end with it too. But, the good news is that we continued.
By this time, the number of SAPNEY members had shrank. Best of the friends still remained together, also, a few others came in. Earning members led to generous fund generation from SAPNEY events.
In 2008, once again we went to the Blind school in Haryana and organised the event with the great assistance of Mr J L Kaul, Chairman of AICB.
Apart from all the nobility, there was a surprise element waiting out there for us. Guess what!! Children out there, not only remembered us by our names, but they also inquired about our friends, who had visited them close to 2 years back.
It was so beautiful to see the welcoming smiles and feel the enormous love. We met our favorite superkid, Pandey ji again.
Aadhar gave a presentation to the senior children, regarding money management.
Everyone (both the benefactor and the beneficiaries) enjoyed a lot and contributed in preserving childhood by spreading incessant smiles and monetarily fulfilling a few of their basic requirements.
Yipeee!!! SAPNEY was now blooming in varied colors, with so many new members joining the noble cause.
Our new friends came in from different fields of work and life, making the year remarkable for SAPNEY. Now, we were not limited to our own college and school friends, but friends from our past offices, current offices, new colleges and friends of friends joined hands with us… People started trusting us and we were more confident in presenting ourselves.
The next event was held at the Missionaries of charity, Civil Lines in New Delhi. This charitable organization is an orphanage for tiny tots. Abandoned childrens under 5 years of age find a safe shelter there.
One thing common in all the events we conducted so far is – the warm welcome we receive. It was so lovely to be there.
Best part of the event was when we were escorted to their nursery and infant section. Hygiene levels were very impressive and we enjoyed seeing children playing with colors.
The swings, the class rooms were so beautifully decorated.
By watching what we saw, anybody can wonder how heartless a human can be at times, to leave his child and at the same time, we all can see how beautiful are the people at Missionaries of charity, Civil lines to take care of such children with such pious motherly attitude.
Mothers and Nuns out there, have sacrificed their family to serve a bigger family of God, called humanity. Sapney salutes their spirit and dedication.
Hopefully our new friends enjoyed the event and will continue to attend future events.
A special thanks to Aadhar.  Sumit Chawla, Nimisha, Abhishek Dhingra, Meenakshi and Komal welcome to SAPNEY family.
Dream 2010 was a great success.Held on 26th of June at Seva Bharti Institute, the event saw the advent of around members. Seva Bharti is a nation wide NGO contributing towards the development of skills amongst the economically challenged masses of the society. It imparts computer knowledge, beautician course, spoken English classes, stitching and tailoring classes at nominal and minimal rates. Sapney contributed in its own way to the institution by distributing crayons, activity books, pencil boxes etc. to the small ones. Printer/scanner/photocopier, computer equipments like- mouse, keyboards and computer stationary like paper packs and blank Cd's were donated towards the computer section of the institute. Threads, handkerchiefs, pens,registers were other contributions. The children out there were quite interactive.. we played, danced and sang with them.We interacted with the chairmen, trustees and the faculty members of the institute,they were quiet down to earth. We were very pleased to meet them. They shared their experience with us and encouraged us to contribute towards the noble cause of life.
Yet another memorable day. Thank you for making event so very joyful and happening . Rightly said "Sapney" dekho to sapney sach hote hain.(If you see dreams, you may just fulfill them). More than 100 people attending the event, dance, music, sapney song, guests from different part of Delhi/NCR, music system, little fairies decked up for competition…. and so many other beautiful memories to cherish. 50 lovely fairies did performed with their hearts and without any doubts won our hearts.
As per initial feedback we found out that many people were not able to spot donation counter and could not donate. Only if you fall in the same category and wish to support the cause you may pledge your support by commenting here and we will accept your contribution the next time we meet.  The total expenses for the event were 30 k .
We request you all beautiful people who graced the occasion with their time and presence to please share event pics with us so that we can further share it with more friends.
One more day added to the celebrations of our lives. One more event of Sapney where we had smiles all around us and we were smiling as well. Many smiles added to the faces of kids who enjoyed the event and many more dreams fulfilled with small effort of Sapney Team.
If you missed it by chance, here is the details of what happened on 6th Of October, 2012 at Saraswati Vihar Slum area.
Painted with love , comparison of walls before and after
Painted with love , comparison of walls before and after
Painted with Love
We actually started off a bit early this time, by getting the venue painted a few days before the event. The venue was not in a very nice condition when we first visited the place a week before the event. It was full of damp marks , paint falling off the walls and bricks were clearly visible through the washed off paint. The blackboard too was not in condition where on the teacher could write a word. With the efforts and contribution of the members we were able to get the venue painted for Rs 3500 by Bhagvan Das Ji, who is the resident of same slum area. In this peak time before Diwali any painter would have asked Rs 5000-6000 for the task, but we could somehow negotiate with the person who painted, as 3 of his kids were also studying at the center. The teacher, Mrs Shashi Ji was a great help in helping us contact the painter. She also contributed in getting the venue painted by being there at the venue when the work was on, and scheduling the classes accordingly. All the members who were there appreciated the paint job being done.
We made it magical. Literally !
Yes, its true that we created magic this time which, the kids and the members are sure to remember for long time. The magician Mr Mahesh was star of the show. He was so cooperative and engaging . He made sure that all the kids participated in making magic happen. He asked for Rs 1700 for a show of 30 minutes. Whenever he performed a trick, kids exclaimed by saying a very poetic, waoooooow. He taught kids a simple tissue paper magic, which was a learning for us as well. Thanks to Rhythm Jain and Abhishek Dhingra for contributing and making magic happen.
One more time team of Shemrock schools from Delhi opened their heart for little friends of Sapney by donating bags full of toys and clothes. We received the goodies from their team on the event of Christmas.
Last year also, we received wishes from Shemrock team in form of clothes and toys. The event was covered in print media by national daily "The Hindu". The event also got featured in "Jagran".
We thank the entire team of Shemrock and Shemford school for supporting the cause and we wish them progress and prosperity in all their endeavors.
Lat year we utilized the clothes and toys which were donated at event organised in slum area of Saraswati Vihar. The event Smiles 2012:) received lot of praise and response in terms of members attendance. But this time we have received even bigger lot of clothes and toys so we really need to scale up our efforts for bigger event. Since we already have lot of stuff to donate, the only thing we ask from you is your support in spreading word about Sapney and your blessings at the time of event. More than anything else, what inspires us the most is the large number of people at the event.
We are planning to start a campaign to generate awareness about child adoption in Delhi. Please share your thoughts.
It can be a online campaign or offline event as well..creativity most welcome.. our budget for this campaign is Rs15000.. so please suggest accordingly.
End result should be something productive like getting at least one or two kids adopted.